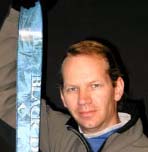 Wave Vidmar
1st American to attempt a solo unsupported expedition to the North Pole

View the latest entry
from Wave's logbook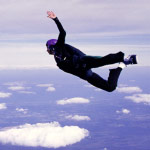 Talk to Wave Live
Two lucky classrooms will have an opportunity to talk with Wave live from the North Pole via satellite phone!!!
Learn more

A Unique Educational Opportunity
North Pole Solo 2004 is a real-life expedition in which youth around the globe can participate online, as Wave Vidmar attempts to hike, ski and swim solo across 660 miles to geographic North Pole. Wave will be the first American to ever attempt this journey!
Students have the unique opportunity to learn about the North Pole, motivation techniques, survival training, the elements of wind and sun, glaciers, water systems, communications, nutrition and environmental management. Wave's greatest hope is to inspire positive change in this world, both for the present and future!
---
Students Will Be Eager to Participate
Reality shows are very popular on television these days. Kids love them. The North Pole Solo expedition is the ultimate reality experience – allowing students to participate by sharing and discussing Wave's stories, maps and digital images.
Your students will act like detectives: they will ask questions, gather information, look for facts to support or disprove their assumptions, and provide solid theories or explanations. This is not a textbook, but an authentic experience occurring in real time.
Through their participation, students can improve their academic skills in geography, history, science, math, language arts, and many other curriculum areas. They will be inspired and motivated to follow their dreams. By the end of the expedition they will be experts enjoying the accomplishment of applying their knowledge to real-world situations.
Read our suggestions for Introducing the Expedition

Take the North Pole Solo quiz. Click here
---