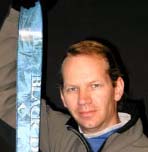 Wave Vidmar
1st American to attempt a solo unsupported expedition to the North Pole


Talk to Wave Live
Two lucky classrooms will have an opportunity to talk with Wave live from the North Pole via satellite phone!!!
Learn more

Purpose:
Students will become information producers. They will increase skills in the areas of thinking, imagining, visualizing, drawing, inventing, and creating.

Discussion Questions:
What are some of the challenges that you think Wave will face, as he travels solo to the North Pole? How will creativity help him find solutions?
What kinds of things limit or stifle creativity?
What kinds of things encourage and inspire creativity?
Who are some of the most creative people in the world today? Why?
What is the difference between a consumer of information and a producer of information?
Describe your favorite ways to consume information. (i.e. books, newspapers, TV, radio, movies, dialogue with friends or family, etc.).
Describe your favorite ways to produce information (i.e. writing, drawing, designing, inventing, taking photos, making videos, etc.)
How important is it to you, to share what you produce with others? Why or why not?
Suggested Activities:
Being creative is seeing the same thing as everybody else, but thinking of something different. Have students view the digital images from the North Pole Solo expedition. (Or, have students cut out interesting or unusual pictures from magazines). Then have students think of clever or humorous captions for the photos. Learn more
Creativity is the ability to generate novel and useful ideas and solutions to everyday problems and challenges. Have students make a list of North Pole Solo challenges. (Or, have students make a list of ordinary annoyances, such as rush hour traffic, misplacing the TV remote or keys, etc.). Then, have them brainstorm creative solutions.
Creativity is the action of combining previously unconnected elements together. Divide students into small groups. Ask each student to writing down two nouns. Then, make a list of all the nouns and have the students create a story from those words.
An important rule for creativity is to suspend judgment, by not criticizing your own ideas or the ideas of others. Have students make a list of problems in their community (i.e. trash on the beach, graffiti, homelessness, etc.) Then, ask students to come up with solutions by answering "what if?" questions. What if money was no object? What if we needed the solution by tomorrow? What if we wanted to do the opposite?
A variety of popular imagery has been inspired by the Arctic regions, ranging from Currier & Ives Prints to cigarette trading cards to stereoscope and magic lantern views. Have students view these images and discuss their significance.
---