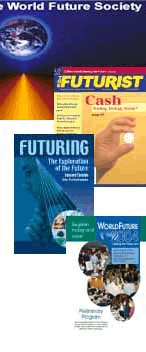 Two memberships for the price of one!
For a $45.00 contribution, you can become a member of Global SchoolNet (GSN) -- AND you will be automatically enrolled as an educational member of the World Future Society (WFS) for one year!!!
You will receive all of the benefits of regular Global SchoolNet membership.
PLUS, you will receive a one year subscription (6 printed issues) of THE FUTURIST magazine -- and the monthly e-mail newsletter, FUTURIST UPDATE.
As part of your combined GSN-WFS membership, you will receive access to modules for Teacher's and Student's Guides to the Future, a Youth-To-Youth Web Program, and Instructional Modules for Teachers, as well as offering Student Scholarships and Youth Programs at WFS Conferences.
Donate Now - Your Charitable Contribution Is Tax Deductable!
Make a Contribution Now (this will connect you to "Just Give," our contribution partner web site).
Program and Project List
Why Support Global SchoolNet?

GSN has been supporting global education since 1984. Learn more
Global SchoolNet is a 501 (3) (c) not-for-profit organization dedicated to providing collaborative learning activities that prepare students for the workforce and help them to become responsible global citizens. You can view our public record Guidestar Report

Benefits to You

There are benefits to becoming a GSN member. Learn more
Prepare for the Future -- by Becoming a Global SchoolNet Contributing Member
Contribute $45.00 (or more) and receive the following gift. Plus, your donation is tax deductible!