<![if !supportEmptyParas]><![endif]>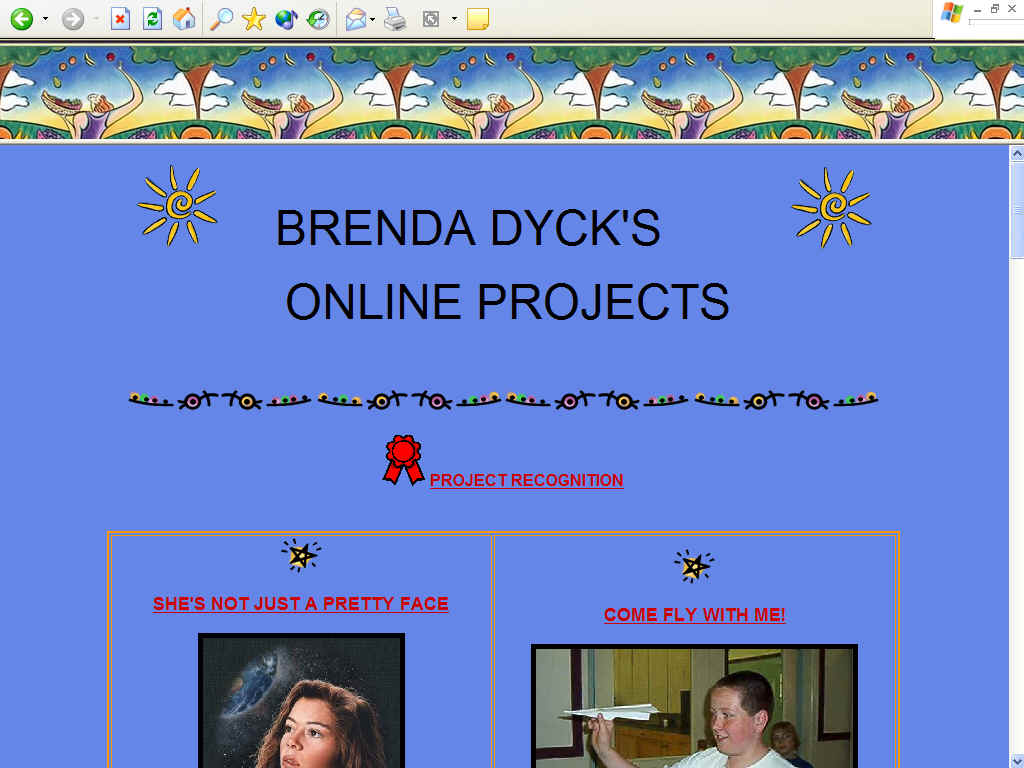 For a quick recap of my projects, go to:
http://www.masters.ab.ca/bdyck/bd/
Details about the telecollaborative projects that I have planned, organized and conducted:
1) I'm Leading. Is Anyone Following?
My very first telecollaborative learning project.
September 2000- June 2001
Participants:
Phyllis Froese's Grade 6 class (ages 11-12) From Abottsford, B.C., Canada

Jann Poritt's Grade 6 class (ages 11-12) from Regina, Saskatchewan, Canada

Brenda Dyck's Grade 6 (ages 11-12) class from Calgary, Alberta, Canada

Janice Robertson's Grade 6 class (ages 11-12) from Toronto, Ontario, Canada

D.J. Thomas' Grade 6-8 (ages 12-14)class from Orlando, Florida
Project Page URL: http://www.occdsb.on.ca/~proj1615/leaders/index.html
Main Learning Goals:
As part of my Social Studies Unit on Government (part of the Grade 6 Alberta Protocol for Grade 6):
Students identified leadership characteristics demonstrated by leaders in their world.

Using 5-8 of these traits as a measurement benchmark, students measured their choice of leader.

Students engaged in the steps of writing a quality position paper.

Using my project "working paper" template, students demonstrated the process of writing a position paper.


http://www.occdsb.on.ca/~proj1615/leaders/custom3.html

Students learned how to create supportive statements that demonstrated "how they knew" their leader exhibited each of the traits.

Students demonstrated an ability to use critical thinking skills such as analysis and evaluation.

Students used the Internet to share their learning with another class (or classes) on this

project.
Online media/technology used:
FrontPage 2000

Digital camera

Internet

Email
Description of Collaboration Results:
All student work was published on web pages that linked off of "I'm Leading. Is Anyone Following?" homepage:
Student Work:
http://www.masters.ab.ca/bdyck/Leader/Leaderhome/
The writing that resulted from this project demonstrated students using higher level thinking skills (analysis, synthesis and evaluation) as they wrote about their choice of leader.
The student page from Calgary, contained a photo gallery from a project called "Road to Democracy", an activity that accompanied writing about leaders. This page also included pictures from an accompanying assignment called "A Body of Leaders". For this assignment students drew a large body and using the criteria that they used to evaluate their leader, assigned symbols to dress their person. (For example: if "listening" was a leadership trait, their person would have extra large ears). This assignment challenged students to turn the abstract into the concrete (scroll down the following web page):

http://www.masters.ab.ca/bdyck/Leader/Leaderthree/index.htm
Anecdotes, lessons learned, obstacles, surprises, emails etc:
My learning curve was steep for this project. I learned how to:
Inform the online community about my projects' existence via posting a call for participation on various listservs, online web sites and educational journals

Realizing that students could get lost in writing a position paper (especially if they had never written one before). To deal with this problem, I created what I call a "working paper" which walks students through each step of creating a position paper. Not only is this a scaffolding tool for students, it provides teachers with a bird's eye view of the students' writing process (which is an evaluation tool in itself). Because of using a working paper, I believe students have been far more successful at reaching my assignment benchmarks. Here is the working paper used for this project:
http://www.occdsb.on.ca/~proj1615/leaders/custom3.html

Since then, I have included a working paper whenever I think my student's need additional support to meet my writing benchmarks. I believe the working paper also helps participating teachers to follow the authentic intent of my assignment.

I learned the importance of keeping in contact with my project participants. I did this by creating and egroup (using Yahoo).

I learned that there was a need to teach teacher participants the importance of citing their sources for any graphics or pictures used on their web pages. Not all teachers are aware of the need to site sources and ask for permission to use photos and graphics found online. As I moved through this project I realized that I was modeling (and therefore teaching) ethical practices of proper project creation for the teachers I was working with.

I learned the importance of having a clearly defined timeframe for the completion of a project. I should have had the teachers hand their work in no later than mid April so that the work could be on the web page for their students to see. I was still getting work sent to me in late June.

This project earned

a Canada's SchoolNet GrassRoots funding grant for this. Learning how to apply for this grant was another step in my learning curve.
Some of the challenges of this project were:
Having all registered projects stay with the project until completion. I had one class from Toronto that worked very diligently on the project right to the end but didn't actually submit work.

Getting teachers to maintain project deadlines (ex: handing the final work in on time). I found myself finishing the web site off well into August because some of the work dwindled in at the end of June (even though it was due in May)
Anecdotes: I was delighted when Phyllis, one of my Canadian participants phoned me while visiting my city. Still new to the virtual world, I continue to be amazed when I have real-life contact with my Cyberspace colleagues! We talked for over an hour and she shared her class web page with me as well as some of the other technology related activities she was doing in her classroom.
November 2000- November 2001
Participants:
Brenda Dyck's Grade 6 class (ages 11-12) from Master's Academy and College - Calgary, Alberta, Canada (2001)

Neil Robinson's Grade 5 LA class (ages 10-11) from ABC Charter Public School (a school for gifted/talented students)- Calgary, Alberta, Canada (2002)

Lunch hour "Walls Club" at ABC Charter School (over the 2002 winter term I met twice a week

with three students. They researched and wrote about their choice of wall and learned how to use FrontPage to create a web page for their writing) (2002)
Project Page URL:
http://www.ncsu.edu/midlink/mar01/walls/
Online media/technology used:
FrontPage 2000

Internet

Email
Main Learning Goals:
Students accessed and retrieved information through the electronic network and analyzed and synthesized information to create a product

Students evaluated the authority and reliability of electronic sources

Students gathered information about two walls of their choice and moved past the basic issues of construction right into the lives of the people that envisioned the walls, built the walls and lived under the influence of the walls.

After examining "why" walls are constructed students identified the very things that cause people to build divisions between themselves and came to recognize the biases, discrimination and intolerance that still surrounds us today.

Students read, write, represented and talked to explore and explain connections between prior knowledge and new information in oral, print and other media texts

Students experimented with a variety of forms of oral, print and other media texts to discover those best suited for exploring, organizing and sharing ideas, information and experiences

Students discussed how ideas, people, experiences and cultural traditions are portrayed in various oral, print and other media texts

Students revised introductions, conclusions and the order of ideas and information to add coherence and clarify meaning

Students used paragraphs, appropriately, to organize narrative and expository texts

Students created a plan for an inquiry that includes consideration of time management and made connections among related, organized data, and assemble various pieces into a unified message.
Anecdotes:
The project earned

a Canada's SchoolNet Grassroots funding grant.

When the student writing was turned in for this project, I was reminded how writing has the power to free students to communicate the hurts, frustrations and helplessness that no one else may not be aware of. One piece of writing came in that spoke about the invisible walls that occur when people go into "emotional hiding" because of something bad that has happened in their past. It was clear that this student was referring to someone close to her. She described how these people:
"Go completely off and sort of abandon life for a couple of days".
She described this behavior so clearly that you knew that it was probably part of her own life experience. She went on to say that:
"These walls can sometimes do damage because the person can get so caught up in everything that they start to lose their friends and sometimes even their own family. Plus it can make the person look bad in their public reputation or what people think of them."
After reading this, I felt I had been given a quiet "hint" of something existed in her life…something I think she wanted me to know about it. I wondered if her closing statement was a piece of advice she had given this person:
"You can tear these walls down by going out and making new friends or just not even going into the walls in their first place."
You can read this piece of writing at:
http://www.masters.ab.ca/bdyck/Invisible/
January 2002- June 2003
Participants
· Brenda Dyck's Grade 6/7 class (ages 11-13) from ABC Charter Public School (a school for gifted/talented students)- Calgary Alberta Canada
William Bietsch's Grade 6 class (ages 11-12) from Magen International School in Tel Aviv, Israel (2002)

Lynn Gannet's two Grade 6 classes (ages 11-12) at Master's Academy and College (2003)

Lena Pumber's Grade 7 class at Master's Academy and College (2003)

William Bietsch's Grade 6 class (ages 11-12) from Magen International School in Tel Aviv, Israel (2003)
<![if !supportEmptyParas]><![endif]>
Project Page URL: (turn your speakers on):
http://www.masters.ab.ca/bdyck/Rights/
Online media/technology used:
FrontPage 2000

Digital camera

Internet

Scanner

Email
Student Work:
See the project web site
Main Project Goals:
To challenge students to identify the elements that are present in a safe place

To use five of these identified elements to evaluate the safety-level of their classroom and determine ways to make their classroom a safer place.

Students will start to transfer their findings about safe places into their relationships with their peers.

Students will develop an understanding about the 1989 Charter of Children's Rights

Students will demonstrate an understanding of ways the 1989 Charter has been successful and unsuccessful.

Students will communicate ways that Children's Rights can move from rhetoric to reality in our world.

Students will use the Web to collaborate with another class (or classes) on this project

Students will have an opportunity to experience a cross-cultural via the Internet. This experience will challenge students' mental models about human rights.

Students will learn the FrontPage program and use it to create a quality web page to house their "We the Children…" writing.
Description of the Collaboration Results
Partway through our "We the Children…" project, we were approached by a class in Israel, asking if they could join us. My diary describes that day and the way our project focus expanded to finding out about this country of Israel:
"My class is all a-flutter about sharing their "We the Children..."
project with a class from Israel. Today I received an email from
William (the teacher...by the way, he's an American teaching in Tel
Aviv) telling us about their school and his plans to participate.
Today my students spent the class searching for website information
on Israel so that they will be somewhat prepared to correspond with
these Israeli students. Tomorrow students will take these Internet
sites and learn how to create an Internet Sampler (using a
Filamentality template). Not only will the students learn about Israel
but they will be challenged to use different types of questions
(analysis, synthesis, evaluation questions) in their Sampler.
My Grade 6/7 students are wondering if they will need to find a
"Hebrew" program for our computers or if they are up to communicating
with students where English is their second language. One of my
Jewish kids is excited about trying his Hebrew out for real1 What
interesting considerations....hmmm, just like being part of the United
Nations..."
At the end of this project, as my students and I debriefed about our time together (January-June), I asked them for highlights. It was the unanimous decision of the class that the collaboration with Israel on this was the most exciting thing they had done in the classroom for a long time. They loved creating their own web pages and wished they could have emailed their Israeli friends more frequently.
Things I Learned
The process of this project had the potential of being quite complicated for students to follow. I decided to create a process chart that would help students (and teachers) keep track of where they were in the project. This visual tool was very helpful to my students. I would do this again. Here it is:
http://www.masters.ab.ca/bdyck/Rights/rrprocess.pdf
I learned how to create pdf documents for this project and how to link it within my web page. I don't have the Adobe program so I registered for a trial version of the Adobe program (it allows 5 free uses).

Students emailing students brought up a concern about safety (FOIP). In order to keep maintain a level of security for my students, William (the Israeli teacher) and I developed a system where the students sent their emails to us, we made sure they were appropriate and them we emailed them on to the other teacher. The students never knew each other's email address. This worked well.
Anecdotes:
The conception of this project had come out of a need to recapture the attention and respect of a group of gifted students. There is no doubt in my mind that the improvement that I witnessed during those beginning week of the "We the Children…" project was directly linked to the level of student engagement and activities that challenged these gifted students' thinking.
I had one Jewish student in my class. This project had special meaning for him. He was so keen to practice his Hebrew and to correspond with the students via email. One day he came to school and showed me a bulletin that he had from a memorial service he had attended the night before at his Synagogue. This service was in support of the Jewish people in Israel and the deaths that were happening. I asked David to share the bulletin and his experiences the night before at the Synagogue. The students were very interested…the mood in the room was somber and so grown up. What moved me the most was David's attempt to, in spite of his Jewish heritage; explain both sides of the conflict between the Israeli and Palestinians in an unbiased manner.
For the "Express Yourself" part of this project, students were asked to choose a creative medium to express your feelings on Children's Rights. I was blown away by the diversity of projects- Drawings, Stories, Poetry, PowerPoint Presentations, Drama, Sculpture and Videos. Each one was incredibly creative and carried a powerful message. At the end we displayed the project work (in a Gallery format) at our Parent registration night in February. I hooked up a computer that displayed the source of all this creativity- the "We the Children…" telelcollaborative project. Parents were totally captivated!
During the 2003 school year, the Grade 6 students at my school will be connecting with the same school in Tel Aviv, Israel that I worked with last year. They will be begin an emailing partnership by early February, one that will continue until the end of the school year. In his January 24, 2003 email to me, Israeli teacher William Bietsch explained a thought-provoking benefit that his students will gain from working with my Canadian students:
" I have 20 students and I can start at anytime... They are very interested in meeting the kids from your class. What I think is a great opportunity is working with a non-Jewish partner school, partly because many students here feel the world in general is a dangerous place fro them as Jews. This is something that I would like them to explore and see for themselves that they are part of a larger global community as equal participants and not potential victims."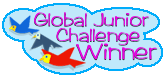 "We the Children..." was awarded first place in the 11-15 year old category of the 2004 Global Junior Challenge in Rome, Italy.
http://www.gjc.it/2004/en/foto_cerimonia_premiazione_08.asp
September 2002- February 2004
Participations
Trudy Campbell's two Grade 8 LA classes from Master's Academy- Calgary Alberta, Canada

Beverley Maddox Grade Eight LA class in Little Rock, Arkansas

Three 16 year old students from Mendoza, Argentina (Gonzalo Ruiz, Federico Aguirre and Fernando Mercado)

Fred Ankerson's Grade 7 Technology Applications class in Cocoa, Florida
Online media/technology used:
Project Page URL: (turn on your speakers)

http://www.masters.ab.ca/bdyck/Justice/
Student Work
http://www.masters.ab.ca/bdyck/Justice/Studentwork/index.html
Description of the Collaboration Results
Early in this project I was emailed by three 16-year-old students from Argentina asking of they could join "Beyond Wild Justice". They had seen my call for participation on the iEARN site (they had been part of an iEARN project last year) and were keen to join us. Even though a teacher in Argentina did not support the students, I decided to work with them and guide them through the main parts of the project. I emailed a plan for them to follow and within no time they had sent some of their work to me. One of them only spokes French so I used a translation tool (from the ePals site) to translate any correspondence we had into French for him. I was stretched in new ways from collaborating from with these highly motivated international students.
I wrote about my experiences as a virtual mentor on Education World. I called it "Teacher: Alias Teacher Mentor:
http://www.educationworld.com/a_curr/voice/voice106.shtml
Beyond Wild Justice received a Grassroots funding grant and offered a wonderful opportunity for teacher-teacher collaboration between Arkansas and Calgary. Beverley Maddox, the teacher from Arkansas provided ongoing feedback on how the project progressed for her and her students. Her emails were invaluable because she was slightly ahead of our students. We had a great time comparing our students' reactions to the concept of restorative justice and forgiveness.
Bev believed this project would stretch her students' mental models. She explains why below:
"Many will have difficulties with the ideas of alternative justice and forgiveness, but the cognitive dissonance will be good for them! I've already emailed a friend to request she translate some of the site for my ESL kids. "Eye for an Eye" and "hit back harder" represents justice for most of my kids, so their "mental models" will change, I hope. Mediation and forgiveness are not attractive to them. Your quote from Eleanor Roosevelt will get stunned reaction from some."
Other Comments About "Beyond Wild Justice"
This is *SO* powerful -- and effectively presented.
Timely topic is an understatement!
You might be interested in this new Journal of School Violence:
http://genesislight.com/JSV.html
I'm truly touched by this effort,
~ Beckey Reed, Consultant, School Services, North Carolina State University
-----------
Brenda: This assignment is amazing. I only touched on a small part of it and I am already moved with emotions. Please accept my admiration for what you have learned to create and the gift you have for integrating technology and learning. I will stay with you on this project and want to know highlight moments to visit the class.
~ Doreen Grey, principal, Master's Academy and College
----------
" Dear Brenda,
This is a very promising project! I would like to share your message with two friends of mine, the first is Lynn Taylor. She lives in Yellowknife and helps to lead a powerful restorative justice program of which I am sure she will tell you more.
The second person is Dr. Lois Gander, a professor at the University of Alberta's Law Department. She is a pioneer in Canada in the areas of youth and the law. I think that she would be interested in your project.
~ Bill Belsey, Coordinator iEARN Canada
-----------------
"Wow--this project sounds fascinating, timely, and unique,
and definitely a work of passion..."
~ Brenda Barren, editor, ClassRoom Flyer
---------
"Wow. What a powerful project! I would be more than happy to help share this across the iEARN network."
~ Lia Jobson, iEARN
-------------
My Thoughts
Our students have become desensitized to the "B" (Bullying) word. "Beyond Wild Justice" creates an opportunity for students to unknowingly re-examine the issue of bullying by presenting it by "coming in the back door". I believe that bullying behaviors go much deeper than the obvious and it is those interior attitudes and ways of thinking that we need to direct our attention to- possible root causes such as feeding and reinforcing our apparent need for a pecking order in schools, both socially and academically. We need to move past the obvious deviant behaviors found in a bullying scenario to the importance of building community and empathy. Alternative styles of justice and justice circles accomplish this. This is obviously a complex issue. My classroom simulations are only a small tool designed to create a moment for kids to recognize what "exists" question, "why it is so" and seek to envision "what could be." If we make some headway, my efforts in "Beyond Wild Justice" will be worth it.
February, 2003- August 2003
I first envisioned "Freeway to the Heart: The Power of an Image" while touring through the Pulitzer Prize Photograph Exhibit in Dallas, Texas (where I was presenting at NSBA, 2002). After spending an afternoon totally inspired by these bigger than life photographs, I knew I had the makings of a new project for my students.
This project explores the power that visual images have to carry a message. The project made use of online examples of award winning Pulitzer Prize photographs as a jumping off point for learning what constitutes a powerful photograph- one that is destined to move the people that view it. Students learned how our views on famine, war and discrimination can be shaped by a powerful photograph. Students chose one of these photographs and researched the background story to it, the message it carried and what happened after the picture.
From here students staged and photographed (with a digital camera) a Pulitzer Prize winning photograph of their own that captured "their" moment. Armed with their message, they were also be challenged to uncover concrete ways they could flesh out their photograph's message to the world. Several of these photographs were posted online along with a piece of writing describing the background to the moment, the message and a prediction of what might happen as a result of this photograph.
One of the notable features of this project is the intentional integration of the arts. I have collaborated with three teachers from my school's Creative Media Arts program. The final project assignment (called "Capture YOUR Image") includes benchmarks from drama, art, music and writing areas. A class from Casola Valsenio, Italy participated in this project as well.
Here is the project page to: Freeway to the Heart" (turn on your speakers)
http://www.masters.ab.ca/bdyck/Image
Participants:
Trudy Campbell's two Grade 8 classes from Calgary, Alberta, Canada
Gian Carlo's Grade Seven class from 

Casola Valsenio, Italy
Online media/technology used:
Student Work from Italy:
http://www.masters.ab.ca/bdyck/Image/Student%20Work/Italy/Homepage/index.html
A sample of student work from Calgary
http://www.masters.ab.ca/bdyck/Image/Student%20Work/Home/Love/index.html
Learning:
This project has truly been a "joining of minds" as a group of five teachers worked together to create a common project. Fleshing our ideas out into one project has been a time-intensive effort but I have seen many benefits from sharing the talents of a group of educators. When you create a project by yourself your own ideas and roadblocks limit you. Sharing the thinking extends the scope of creativity and the outcome is far more eclectic than when limited by your own thoughts. This group doesn't necessarily understand the need to post this project online for other to join in on but they are open to seeing what happens when we do. I hope that we are able to connect with teachers in a variety of settings because I think the diversified/thought-provoking photo gallery that will results from cross-cultural photography will give my colleagues an exciting glimpse of the learning enrichment available to students and teachers when we partner across the miles.
One of the challenges this project presented was the enormous work involved in posting the student photos. Creating an online gallery for 25 different photographs proved to take more time than I had at the end of the school year (when this work was ready). The end result was presented through a PowerPoint at an Open House in May.
6) Statistics: A Curiosity Factor
January 2003- January 2004
Participants:
Holly Snider's Grade 8 math classes: Lake Worth, Texas
Leslie Olson's Grade 8 math classes: Calgary, Alberta, Canada
Brenda Dyck's Grade 6 math classes: Calgary, Alberta Canada
Fred Ankersen 7/8 WebQuests class: Cocoa, Florida
Janine Maletsky's Grade 8 math class: Pompton Lakes, New Jersey
Peggy McCloskey's Grade 5-7 Math/Algebra classes: Rosemont, Pennsylvania
Allison B's Grade 8 math classes (60 students): Columbus, Ohio
Project Page URL:
http://www.masters.ab.ca/bdyck/Staff/Olson2/
Online media/technology used:
FrontPage 2000

Video Camera

Internet

Excel

Email
In late fall (2002) I began meeting with our Grade 8 math teacher for the purpose of teaching her how to create a math-related telecollaborative project. The results of our efforts was "Statistics: A Curiosity Factor", a math-based telecollaborative project that will help students to make informed judgments about the statistics presented by others to persuade them. In this project, students will view short online videos from the Gallop organization, take an online survey and graph the results using an online survey tool, create their own graphable question and then present their data by staging their own "Gallop-like" video presentation. Student work will be posted on the project web page.
This project has received a lot of response from the online community. Within two weeks of sending out class for participation, we had seven partnering teachers from one end of North America to another. Within three weeks we had over 500 hit to our site and now, a year later over 4000 people have visited "Statistics: A Curiosity Factor". Realizing that corresponding with this number of participants could take a lot of time, I created a Yahoo egroup to streamline communication and allow participants to interact with one another. This group of teachers was very keen and interested in engaging in dialogue about how this project is going in their classroom. I continue to receive email inquiries about this project and will likely run it again next fall.
Learning
My goal for this project was to gradually turn the management of it over to the math teacher who I have worked with so that she can experience the excitement that goes along with seeing your idea take life on the World Wide Web. This did not happen. Teachers are so swamped by their day-to-day program that they find it difficult to imagine fitting project maintenance into their day. Realizing the key roll teacher contact has in keeping a telecollaborative project alive, I have continued to handle this part of the project follow-up.
It is a challenge for us to find the time to meet and plan. I am always reminded that it is a huge commitment of time and effort for any teacher that agrees to work with me on creating a shared learning project. I know that this is always in addition to what they already do in their classroom and I have a high degree of respect for their willingness to learn and improve their teaching practices. I would like to see a small amount of release time made available to teachers who are willing to learn how to "wire" their curriculum projects. I think this would demonstrate recognition for their commitment and would go a long way in inspiring them to continue.
January 2003- June 2003
Project Page URL: (turn on your speakers)
http://www.masters.ab.ca/bdyck/StreetStories/
Participants
Grade 6 CyberFair Club at Master's Academy and College
Grade Three class from Ojai, California
CyberFair 2003 entry- Silver award winner
Online media/technology used:
FrontPage 2000

Digital camera

Internet

Email

Audio file creation

PowerPoint
For this project, a group of ten Grade 6 students met twice a week to create a project entry for Global Schoolhouse's CyberFair 2003. For our project, students researched the historical background behind the street names around our school. Our school is built on a former Canadian Armed Forces base and all the streets are named after World War One battles that Canadian soldiers fought in (ex: Vimy Road, Somme Ave etc). They interviewed the veterans at the Museum of the Regiments (next door to our school) and had access to the museum's specialized library. Each student researched their own battle and created their own web page of the battle. We were thrilled when Veteran's Affairs gave us permission to use the original artwork displayed on our homepage. The sound track was an original 1914 song popular during the World War One. One special feature of this project was the original sound files we created using authentic diary entries by World War One soldiers, read by the CyberFair students themselves (with artillery shooting in the background). Each student included their sound file (and artwork) on their web page. An example of this can be accessed at:
http://www.masters.ab.ca/bdyck/Diary/Quentin/index.html
Through this experience, students learned the FrontPage 2000 program and created content-rich web pages about their street. These students were some of the keenest students I have ever worked with!
In February a delegation from Russia visited our school. The delegates were high-ranking officials from the Russian government who were in Canada to view innovation in education. Alberta Learning sent them to our school. We had the privilege of presenting "Stories From the Streets" to these people and to answer their questions. After winning the silver award in the CyberFair competition, we received a letter of congratulations from the Minister of Industry with the Canadian government.
A class from Ojaii, California did this project as well. This was an enthusiastic group to work with. The teacher presented the project at a district presentation and sent us pictures of the event.
http://www.ojai.k12.ca.us/schools/topatopa/Stories%20from%20the%20Street.htm
September 2003- June 2004
Project Page URL:
http://www.masters.ab.ca/bdyck/Homeless/
Participants
Grade 7 class from Master's Academy and College, Calgary, Alberta
Grade 6 class from Ocean View Middle School, Powell River, British Columbia
Grade 5 class from South Meadows Elementary School, Chelsea, Michigan
Grade 7 class from Andrews Middle School, Medford, Massachusetts
Grade 6 class from Post Middle School, Post, Texas
Grade 7 class from Inverness Elementary School, Inverness, Mississippi
Grade 6 class from JFK Middle School, Port Jeff Station, New York
Online media/technology used:
FrontPage 2000

Digital camera

Internet

Email

PowerPoint
Main Project Goals:
· Students will be introduced reasons for homelessness.
· Students will explore and question the validity of the myths surrounding the homeless.
· Students will participate in assignments that will require them to look at life from the perspective of a homeless person
· Students learn what an advocacy campaign is and will use three artistic mediums to create an audience-specific advocacy campaign to raise public awareness about homelessness.
· Students will be introduced to the life of a former homeless teenager via the novel Money Hungry.
· Students will learn how to use an online web space (Blog) to reflect about lessons learned during this unit.
· Students will learn about the criminalization of the homeless and in character (a city official, a merchant, a homeless person or a homeless advocate) will use their findings to take part in a debate about this topic.
Some telecollaborative projects pull at your heartstrings- The Eleanor Rigby Project was one of these projects. Not only did it lead to solid learner outcomes, I believed it reshaped my students' mental models about homelessness and touched their hearts. I know it did both these things for me. Through the activities, I watched my students develop an increased understanding and empathy for the homeless and observed them using sophisticated critical thinking skills to tackle some of the complex issues surrounding homelessness. The activities within "The Eleanor Rigby Project" supported students as they underwent an in-depth investigation of the topic of homelessness. Through the Internet resources, students interacted with information and ideas and used newfound knowledge to reconstruct how they viewed homeless people and their role as a potential advocate for "the silent poor".
A number of American schools joined us for this project. One school from Inverness, Mississippi, asked if they could correspond with us. We were delighted to comply! For two months, emails flew back and forth between Calgary, Alberta, Canada and this small school (comprised of a high minority population) in Mississippi. They learned about tobogganing (they had no idea what it was) and we learned about Catfish festivals (one of my students said "Would you believe there's a "Catfish Queen" crowned at the festival??).
Collaborating with this little school in Inverness, really touched me. This is what I wrote in my Blog that week:
"Sometimes in my weaker moments I question why I create telecollaborative projects. You know, there really are easier ways to deliver content. By the time my fledgling project idea blossoms into a live project on the Internet, (with a number of classes participating from one end of the country to the other) hours and hours and weeks and weeks of work have gone by."
"This week I was reminded why it's more than worth it. After sending out a "call for participation" on various ezines and listservs, I received a response that really touched my heart. It came from a small school in the deep south- a rural school located in Southwest Central Mississippi in the heart of the Mississippi Delta. I was very moved by the info provided by the teacher there." He said:
"Our school is in Inverness and has an enrollment of 181 students in grades K-8. We are in a poverty area and the vast majority of our students fall below the federal and state poverty guidelines. The tax base in our area is small and does not generate enough income to fully support the schools. The prospects for generating a larger more profitable tax base are almost non-existent in spite of the efforts of local, federal and state programs to increase it. We are a farming area and always will be. Our county according to the latest census is classified as being almost 75% minority (black). Our school has two students who are not classified as minority students. Our students need to have the world opened to them through positive experiences that will increase their learning and knowledge... I would like for our students to share stories about the areas in which they live. "
"How do you put a price on the caliber of learning opportunities that will come our way as a result of corresponding with classrooms so different than our own? Without a wired project, how would my students ever have had a chance to collaborate in such a way and to share their stories? Imagine what I'll learn from corresponding with this teacher and most important: what a wonderful way for my students and me to give back to a struggling school district, one "that does not generate enough income to fully support the school."
"What an honor it is to have the opportunity to collaborate with a teacher like this one- an educator who is trying his best to provide an "equal" education for his students- in spite of all odds. This teacher's poignant words can't help but grip you." I plan to share them with my own students tomorrow:
"I am looking forward to observing our students reactions as they participate in the project. It is always good to take your eyes off of your self and see others."
--------------
One of the interesting things about The Eleanor Rigby Project was that I had originally created it for a group of upper end learners. These students have strong skills and the activities were designed to present a challenge for them. One of the other participating classes, on the other hand, were Special Ed students with many learning difficulties. Their teacher, Laurie Wasserman, painstakingly adapted the activities within The Eleanor Rigby Project so that these students could meet learning success and still learn about homelessness. How rewarding it was to see the very same Affinity Diagram activity (done by my upper end learners) being done with equal success with students who find learning a challenge. This is what Laurie had to say about The Eleanor Rigby Project:
"My students are so enthralled, excited, and motivated about the Eleanor Rigby Project, that one of my most challenged students, a boy who always loses his materials and can only read on a grade one level, spoke with me last night on the telephone. It seems since I have been out this past week with a sprained ankle, HE DECIDED to take home his ER Project because he was so interested in learning about homelessness and creating poetry and ideas from this site you created! He talked about this project with his mother. You have touched the lives of special needs children, who are very learning and language disabled, and who read 3-4 years below grade level. This is powerful stuff you do!"
During this unit, my students and I experimented with a new online tool called a Blog (weblog). A Blog is essentially an online thinking space or journal. I created a Blog for each student (using http://www.blogger.com/ ) and for myself as well. Here I posted assignments, questions for the students to think about and responses to the students' postings. In my Blog space I reflected on the learning (both mine and my student's) observed throughout The Eleanor Rigby Project. Students seemed to enjoy this wired approach to journaling and when it came to assessment time, I was able to use the Blogging entries as evidence of the learning that took place during the project.
It was my Blog (see: http://eleanor-rigby.blogspot.com/?noCache=2004073748 ) that led us to one of the most unforgettable things that happened during this project. Just before Christmas, I received an email from a homeless man from Montpelier, Vermont. "Morgan" had come across my Blog while surfing the Net in his local library. In his email he thanked me for creating a unit of study on homelessness for my students and shared a few online resources (one of them was his own Blog) with me. I emailed him back, thanked him for the resources and asked if he was open to my students asking him a few questions about the life of a homeless person. This began an incredibly powerful mentoring partnership between, Morgan, a man who has lived most of the past 31 years on the street, and my grade seven class. My students had an abundance of questions:
· Why are you still homeless after 31 years?
· How did you first end up on the street?
· Where did you learn how to write so well?
· How do you gain access to computers and how did you learn how to create a Blog?
· What would you most like us to know about the homeless?
· What is the hardest part of being homeless? What will your Christmas be like this year?
Morgan, an articulate writer, candidly described the events that led him to a life on the street- a life riddled with family dysfunction, mental illness, inferiority and poor choices. He suggested to the students that homeless shelters in may ways, feed the problem of homelessness by developing a victim mentality in those on the street. He shared his belief that the real solution was connected to dealing with the dysfunction in homes and helping the children who were being molded by the circumstances in their homes. A very grown up topic for these upper middle class grade seven students! Each time I read one of Morgan's emails, a sobering quiet came across the room as my students listened. Their faces became serious and, almost older. Morgan's last email came just before Christmas. We had sent him an email card. This is what he wrote to us:
Dear Mrs. Dyck and, her 15 students:
I really appreciated the thoughtful and beautiful card. It means a lot to me. Thank you.
In fact the picture on the card is just how it looks here now, as the trees
and the ground are heavv-laidened with snow.
Believe it or not, winter has always been my favorite season and I really enjoy snow too. Always have, though maybe less now than I once did when I was younger, now I am growing a little older.
There are always blessings to be found in most anything experienced in life, as well as in most people too: i.e., if one knows how, when and where to look for such blessings, as well as being open to them anyway.
Sometimes that means making room for them, by making room within our minds and hearts for the unexpected. We sometimes can manage to do that by tossing aside certain attitudes and mindsets (e.g., ways of thinking) that could otherwise get in the way from what can turn out to be awesome discoveries.
Thank you for being so willing and daring to be open to new possibilities in not only certain matters (issues) of importance, but also in learning more about people (including those who may live homeless or otherwise be in great need within this world) whom you may not know or ever meet and, *most importantly*, within yourselves as well as in each other.
Keep up the good work. Merry Christmas from Montpelier, Vermont.
- Morgan
------------
<![if !supportEmptyParas]><![endif]>
I don't think any of us will ever forget Morgan or the lessons learned during "The Eleanor Rigby Project"!
January 2004- March 2004
Project Page URL:
http://www.masters.ab.ca/bdyck/Excuse/
Four Grade 6 and 7 classes from Master's Academy and College, Calgary, Alberta, Canada
Online media/technology used:
FrontPage 2000

Digital camera

Internet

Email
Project Description
Many middle school students struggle with organizational issues. In an effort to confront this problem, I created a thought-provoking project called Excuse Busters!
Excuse Busters was a school-wide (middle school) telecollaborative project initiative created to help our students begin the new year (2004) with a bang! The activities within the project got students thinking about the excuses that interfere with them reaching their true potential. The students began the project by reading an article that explores how excuses stop us from reaching our dreams. From here they looked through some fun sites connected with the topic of making excuses. The goal of the project was to help students identify specific excuses to "bust". The web site included a goal sheet (in pdf form) that students used to reflect and plan from.
Six classes at Master's Academy decided to participate in this short-term project. Each class chose a different way to employ the project, some using drama, art and writing as a mode to explore and bust problematic excuses. One class created "Wanted Posters" for their excuse…implying that this excuse needs to be hunted down and put away! The students work will be posted on the web site as classes complete the project.
Student Work
http://www.masters.ab.ca/bdyck/Excuse/Studentwork/index.html
10) The Starry Messenger Project
January 2004- January 2005
Project Page URL:
http://www.masters.ab.ca/bdyck/Galileo
Participants
Grade 6 classes (2) from Master's Academy and College Calgary, Alberta, Canada
Pennsylvania, USA
North Kingstown, Rhode Island
Bangladore, India
Trincity, Trinidad and Tobago
Online media/technology used:
FrontPage 2000

Internet

Email
Project Description
The Starry Messenger Project is the first time I've had the opportunity to create a science telecollaborative project. Since my expertise is not in science, I collaborated closely with the Grade 6 Science teacher at my school. Our partnership resulted in significant learning for both the science teacher and myself. The Starry Messenger Project is the result of our collaboration.
Embedded within this project is the essential curriculum for the Grade 6 Space and Movement unit. Each web page presents the content, questions and supplementary links. The organization of the project allows students to move through the content at their own pace, or in conjunction with a teacher-led science class. Using a learning log, students keep track of their learning, in preparation for the culminating activity called The Starry Messenger assignment.
This is a simulation-type activity that will transport students back to 1633, a time when Galileo Galilei was branded as a heretic for his views concerning the movement in the skies. The assignment explains that, in order to be cleared of these charges, Galileo will need 21st century knowledge presented at his defense trial. For this assignment, students will use the course content from this project to help develop a defense case for Galileo's 1633 trial. Students will participate in a mock trail at the end of the project. The assignment web page contains both benchmarks and a rubric for this assignment (in pdf form).
http://www.masters.ab.ca/bdyck/Galileo/Starry/index.html
Soon as I posted a call for participation, I was inundated with inquiries from teachers home schoolers and individual students from all over the world. In the end our participants came from Pennsylvania, Rhode Island, India and Trinidad.
September, 2004- January 2005
Project Page URL:
http://www.masters.ab.ca/bdyck/fly2
Participants
Over 50 schools worked on this project. Here are the participating schools:
http://www.masters.ab.ca/bdyck/fly2/participants/index.html
Online media/technology used:
FrontPage 2000

Outlook

Internet Explorer

Digital camera

Excel
Project Description
In an effort to merge Grade 6 math with science, I created Come Fly With Me! Students created their own version of a folded paper airplane, flew the plane in a team and then determined the team's mean flight distance. Classroom teams combined their mean flight distances to create a class mean. This final data was posted on the Come Fly With Me! project page and a winner was announced the second week in January.
Description of the Collaboration Results
This was an enormously successful project. I was inundated with requests to join and received emails back about how much the students in their schools enjoyed this project and had over fifty schools join. Several school commented that they plan to make this an annual school event and wondered if I would run the project again next year.
Not everyone who registered for the project sent in their final data. Approximately 25 schools posted their data, with the winning data coming from a school in Rhode Island. The results from Come Fly With Me! were very diverse. There was a huge difference between flight distances. This discrepancy made me wonder if some classes made errors when measuring their distance or whether the teachers checked their mean results. If I post this project again I will need to address how the results of winning projects can be checked for authenticity.
Here is the final data from the project:
http://www.masters.ab.ca/bdyck/fly2/results/index.html
12) She's More Than Just a Pretty Face (still in process)
November, 2004- 2005
Project Page URL:
http://www.masters.ab.ca/bdyck/face/
Participants
Trudy Campbell's 2 LA classes from Master's Academy
Bill Ivey's Grade 7 LA class from Massachsetts
Donna, New Jersey
Online media/technology used:
FrontPage 2000

Outlook

Internet Explorer

Digital camera

Excel
Project Description
This project came about after listening to Shania Twain's recent song of the same name. In the song the singer sings about the many, many jobs that women do in the world with the point being that there's much more to women than looks. This is such an important message for pre-adolescent girls to spend time thinking about and so I decided to create a project that would cause young girls to investigate strong female role models in our world (both past and present), using an LA platform. Embedded within the project are a number of powerful web resources that will lead the girls to audio and video files and web pages that celebrate women's accomplishments across the ages.
Equipped by these resources, the students will participate in several writing activities, with the culminating project being the creation of a doll concept that will profile the student's famous woman. As students complete their work, participating teachers will send the work to me. I will publish the writing, artwork and digital pictures on the project web site.
---